Sedums and Sempervivums – Georama Plants of the Week
Georama Growers Plant of the Week – September 5th
Common Name: Succulents
Botanical Name: Sedum, and Sempervivum
Happy September!, here's hoping that we still get some hot weather before heading into the fall season. This week I thought we could take a look at some pretty interesting plants for our rock gardens and even containers on the patio. Succulents by their nature are drought resistant and prefer a coarse, well drained soil. However they are very hardy and tolerant of our soil and growing conditions. Sedums or stonecrops are they sometimes called, are known for their signature shapes that offer never ending interest in the garden. The Latin name Sedum means 'to sit' and is an appropriate name for them as they tend to be low growing and work great as ground covers, trailing over rocks and the edge of containers. They are easy to plant, have colourful flowers and are not invasive. Sempervivums, also in the stonecrop family, are known as 'hens-and-chicks' They prefer the same conditions as sedums, which is poor soil and little or no fertilizer and thrive in the heat. Hens and chicks get their name from the 'mama' plant with it's 'babies' spread all around. After the mama blooms, it dies back and you can remove her simply by pulling it out. Most succulents are considered evergreens and will provide year round interest. Both sedums and sempervivums are among the easiest plants you can grow in your garden so why not give them a try!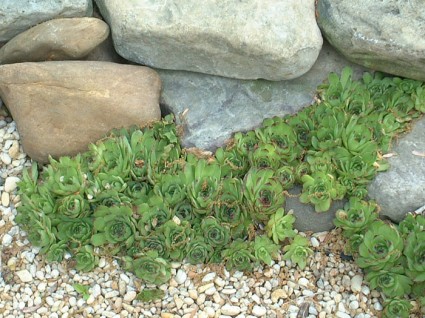 Comments are currently closed.