Team
In this section you will find information about our staff. We hope you have fun finding about us and how we are organized.
Position: President and General Manager
Year started: 1980.  Year became Captain of the good ship Georama: 1990
Besides his work Case enjoys flying his Piper Comanche, travel, camping and spending time with the love of his life – Imelda. Case also volunteers  for the Nelson Pilots Association, Civil Air Search and Rescue as well as the Knights of Columbus and is involved in many community events. Case and Imelda have two children, Thomas who lives in Rankin Inlet NU and works as a medivac pilot and Kristi who lives and works in Kelowna – (miss you both!)
What he likes the best about his work " it's such a great feeling to be able to share work with some of the best people in the industry!"
Position: Head Grower
Year started : George has been here forever! Year became Head Grower: 1989
George takes pride in producing some of the best plants in the province, he is the head of unique team of individuals who, like him, bring so much to the job. He is an inspiration to all with his quite demeanor and willingness to share his knowledge and love of plants. He is also the most stubborn of all of us and refuses to quit! Besides fishing he spends all his spare time with his kids Jake and Amelia.
What George likes best about work:
" I love the fact that I can work at what I love doing, I guess I'm lucky that way"
Position: Garden Centre Manager
Year started: 1982. Imelda started in the Flower Shop when it was on Baker Street in Nelson and has been involved in the growth of the company ever since. She has been at the Georama Road location since 1989 and has held almost every position until her appointment as Manager of the West Kootenay's largest and most modern Garden Centre with the retirement of Marianne Chichoski in 1997. Imelda comes from a Dutch farming background and her love of plants is only equaled by her people skills!. You will often find her at the front counter where, along with her sales staff Imelda takes great pride in helping customers find exactly what they need. She loves shopping for new ideas and products and attends many seminars and trade shows! She and Case have been married for 30 years and proves that old adage that 'behind every successful man is a very surprised woman' ( just kidding) Imelda's hobbies include travel, swimming, painting and gardening.
Words to live by: 'Do what you enjoy and enjoy what you do – no matter what it is. Life is great!'
Position: Assistant Garden Centre Manager
Year started: 2004 Colleen came on board as our representative in the Trail BC area, where she managed our small Garden Centre at Waneta Plaza for many years. Since then she has been chiefly responsible for organizing the transplanting of close to half a million seedlings annually! In her new position as Assistant to the Garden Centre Manager you will see Colleen working closely with our customers and suppliers to make your experience at Georama enjoyable. Colleen and her husband Terry live in Genelle BC where they are happy spending time with a growing family ( 3 grand kids and counting) and their many friends.
Colleen's happy nature and helpful attitude are among two of her biggest assets!
Position: Landscaper and Nursery Lead Hand
Year Started: 2007. Gerry has an extensive background in horticulture and recently relocated to Nelson from Kelowna with his partner Linda.Gerry graduated from the Horticulture Program at Olds College in Alberta and has worked in the industry for 25 years, mainly as a landscape gardener. Having lived and worked in places like, Edmonton, Vancouver, Kelowna and Nelson, he has gained a wealth of gardening experience, and has an incredible knowledge of plants and how to successfully grow them in our various climatic zones. He is appreciative of beautiful gardens and is especially passionate about edible landscaping, including the transformation of his own yard. He very much enjoys an interest in music, film, art and culture (and we know he is a hockey nut!) Gerry loves working with the wide variety of plants and products here at the Garden Centre and helping our customers make the right plant selection.
Bridget Panko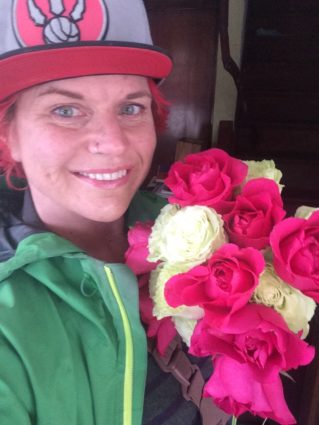 Position: Customer Service Representative
Year started at Georama: 2002 Bridget describes herself as 'somewhat of a plant geek' She graduated from the Horticultue/Landscape design Program at  Capilano College in 1999 and together with her husband and two beautiful girls has lived in Nelson  for 10 years. Bridget can be found anywhere in the nursery where a job needs to get done! She really loves setting up plant displays and her enthusiasim is infectious. Besides being hard working she has a wealth of practical gardening knowledge and enjoys working with her customers one on one. Bridget says she 'loves working with my Georama family and interacting with people who love to garden. It's cool to continue learning from my peers and customers and "spread the knowledge"
Position: Customer Service Representative
Year started at Georama: 2001. Lyn is one of our most senior sales people and has been helping customers with her extensive garden knowledge for many years. She has enjoyed working with plants and trees since she was a little girl. Interacting with people comes naturally to Lyn,  novice and experienced gardeners really trust her advice. Lyn just loves talking plants, and does so with charm and intelligence. Lyn is multi-talented and also has an awesome talent working with glass and clay and on occasion will exhibit her creations in the Garden Centre.
Michael Ball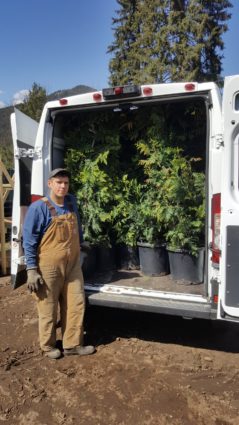 Position: Landscaper and Nursery Maintenance
Year started at Georama: 2006. Mike is young, enthusiastic, (6 ft. tall and very good looking) and a hard worker. You will see Mike landscaping, driving the tractors, operating the Bobcat, delivering product, general maintenance, in short a jack-of-all-trades. His prized posession is his Ford Mustang and when not working, or driving Mike can be found at the golf course. Mike loves working outdoors 'in the fresh Kootenay air'
Position: Head Transplanter
Year started at Georama: 2008. Dawn started out as a junior transplanter but has quickly become a leader in the greenhouse. Dawn, along with her crew is responsible for transplanting, taking care of and shipping close to half a million plants during the spring rush. She is very dedicated to helping produce the 'best plants in the kootenays'
Dawn moved here from the Maritimes and has called Nelson her home for the past 10 years. Dawn loves working in the greenhouse, she says, "it's a great environment, the plants are easy to get along with ! – and its rewarding to see everything transform and bloom as the season progresses"
Position: Assistant Grower.
Year started at Georama: 2002. Barb started out assisting George with watering and spacing bedding plants in the greenhouses. She then worked closely with Anna Grypma planting baskets which has evolved into her present position as Assistant Grower in charge of Hanging Basket production. She works closely with Lyn Fowler and Case to produce the best Baskets in the Kootenays, supplying the retail, commercial and municipale baskets that you see almost everywhere. Barb lives with her husband Dave and children, Camper and Ruby on 4 acres in Blewett. Prior to joining Georama, Barb worked for the City of Nelson Parks Department. Barb loves living and working in Nelson and is very proud of her contribution in making one of the worlds most beautiful little cities even more beautiful with the flower baskets she has planted. Barb's strong family values goes hand in hand with her hard work growing plants.