Pinky Winky Hydrangea – Georama Growers Plant of the Week
Common Name: Pinky Winky Hydrangea
Botanical Names: Hydrangea paniculata 'Dvppinky'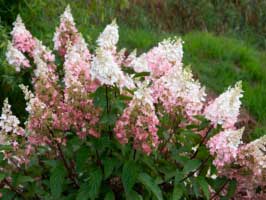 This Hydrangea, with the unusual name – 'Pinky Winky', has an even more unusual flower. The large white panicles open in mid to late summer, and as summer turns to fall the florets at the base of the panicles turn pink. The flower panicles continue to grow, producing new florets at the tip. The result is a spectacular two-toned flower that can reach up to 16 inches in length!
This is a real show stopper that's also very easy to grow. It is vigorous and upright and adaptable to most soils and will grow in sun or shade – Pinky Winky will thrive in almost all gardens!
Panicle hydrangeas are native to China and Japan where they grow in beautiful clumps mainly as an understory plant in the forests. Pinky Winky though, was first discovered in Melle, Belgium in 1999 as a seedling in an open pollination of Hydrangea 'Pink Diamond.' Pinky Winky is a more compact cultivar, and typically grows to 6' tall x 6' wide and its beautiful flowers will even persist into our mild Kootenay winters!
I would recommend Pinky Winky to anyone who loves something different and yet is very easy to grow.
We encourage you to post comments and ask questions on the Georama Growers Facebook Group Page.
Comments are currently closed.