Glossy Abelia – Georama Growers Plant of the Week
Common Names: Glossy Abelia
Botanical Names: Abelia x grandiflora 'Edward Goucher'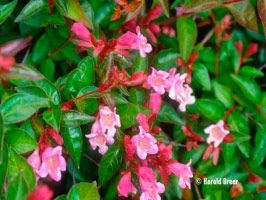 If I was stranded on a deserted Island and I was allowed only one shrub, I think I would choose the glossy Abelia, 'Edward Goucher' – just saying.  This hybrid cross was first introduced in 1911 by Edward Goucher of the US Department of Agriculture , it was the best Abelia of its time, and still remains number one today. As a landscape shrub the canes of the glossy Abelia produce clusters of trumpet-shaped blooms that are lavender pink with orange yellow throats. It's no surprise that they remind one of the honeysuckles, since they belong to the honeysuckle family! But better than the honeysuckles they remain in bloom from early summer to late fall, just when most other shrubs are fading. The fragrant blooms attract bees and butterflies and are beautiful to behold in just about any sunny or partly sunny area of our West Kootenay gardens. At higher elevations such as Blewett or uphill Nelson you should place in a sheltered location out of the prevailing wind. In late fall the glossy leaves of the Abelia turn a nice rich purplish-bronze and certainly add a point of interest even at this late time of year. It can be pruned in spring as it produces flowers on new growth; however please do not shear its beautiful arching branches but prune selectively.
We encourage you to post comments and ask questions on the Georama Growers Facebook Group Page.
Comments are currently closed.